(The following diagram uses the standard 2.25″ PowerBullet vibrator. PowerBullet is offered in many different forms as a stand-alone product and a technology.)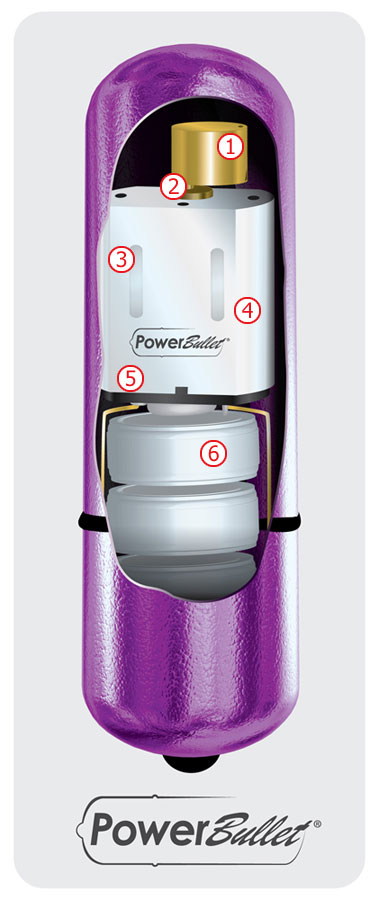 1. PowerBullet vibrations are created with a 100% copper motor wheel that is 60% more heavy than the competition's for more powerful vibrations. Others make their vibrations from a bag of compressed powder which is known to deteriorate over time.
2. The clearance between the spinning copper head and the motor itself is smaller by 20%. This smaller distance translates into less noise emitted from the vibrator.
3. PowerBullet is 20% faster to create more intense vibrations than others.
4. Uses 3 LR44 batteries*
5. PowerBullet's starting voltage is .25 V, while our competitors' are .60 V. When the battery's charge is weak, our motor will still work.
All PowerBullet motors show the PowerBullet logo inside the casing on the actual motor. While many people may not ever see this, it is a great way to tell if a product is authentic PowerBullet or not if needed.
6. PowerBullet uses thick wire windings inside its motor which are over 80% thicker than the competitor's. The larger the diameter, the larger the electric current which translates into more powerful and efficient operation.
How did PowerBullet get its name?
The undying demand for more power committed us to make a bullet that would "rock your world." The first single-speed prototype provided unbelievably powerful vibrations from such a small source. It would amaze people who turned it on for the first time, and many of them have been in the industry for many years. Even better, it would often run continuously for up to an hour. PowerBullet is the most fitting name for something with this kind of power hidden in a tiny shell.
Why have 1-Speed and 3-Speed?
PowerBullet intimidated some first timers or casual users with its enormous power, so the 3-Speed was born to accommodate everyone. The 3-Speed has the same power as the original but at the push of a button it switches between low, medium, and high speeds.
What is "Press & Hold?"
The "press and hold" function is a new twist on our traditional 3-speed bullet. It incorporates multi-speed levels along with the length of time you press down on the button. Made to engage the human instinct to touch and hold, the famous PowerBullet now has you holding on for more power!
*This particular PowerBullet design uses LR44 batteries. PowerBullet is also a brand and has different power sources depending on which product it is powering.